'Funniest Thing I've Ever Seen': Cummins Laughs Off Alex Carey's Accidental Pool Plunge [WATCH]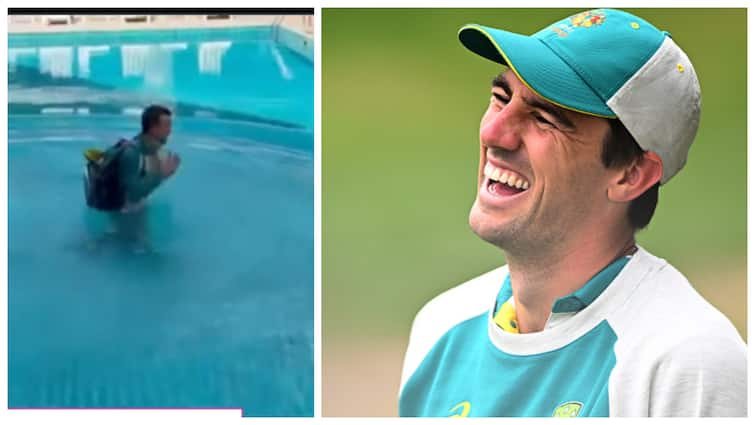 A funny thing happened when the Australian team was waiting at their hotel in Karachi. Australia's wicket-keeper batsman, Alex Carey accidentally fell in a swimming pool at the hotel.
Carey was just casually walking by the pool not realising that he was literally walking into it. A video of the incident surfaced and went viral on social media.
Australia's captain Pat Cummins also laughed it off during a press conference. He said that it was "one of the funniest things" he had ever seen.
Take a look at the video:
Alex Carey walking straight into the pool whilst talking to someone 😂🏊‍♂️

Via Pat Cummins Instagram pic.twitter.com/1uGGSbTkJ4

— Cricket Mate 🏏 (@CricketMate_) March 10, 2022
"It was very funny," Pat Cumins said. "We were just sitting around, waiting to go for the bus and he (Alex Carey) just walked straight into the pool. One of the funniest things I've ever seen, actually," he added.
Pat Cummins also revealed another angle from which the incident got filmed. Take a look at that video too:
CCTV 📸 Angle of Alex Carey Falling in a pool 🤣🤣🤣🤣 #CricketTwitter pic.twitter.com/oNfXjiXpuT

— pratheep𓃵 (@pratheep017) March 11, 2022
"We just got a new footage out this morning of the CCTV camera from a different angle which is even funnier. So yeah, the boys had a good laugh. 'Kez' (Alex Carey) had a very funny laugh himself," the Australian captain said during a press conference.
Pakistan and Australia will play the second Test of the Benaud-Qadir Trophy on March 12, 2022. The series is level at 0-0 after the first Test ended in a draw.