After Ranbir Alia's marriage, Neetu Kapoor, who became a new mother-in-law, got a unique gift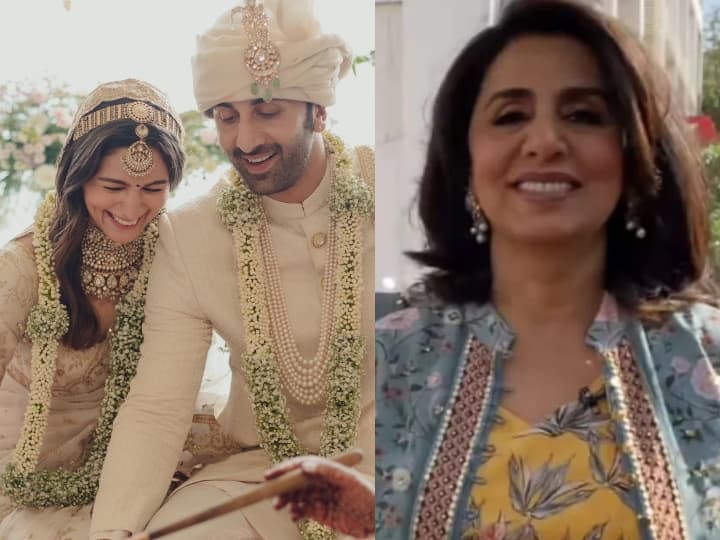 Everyone is crazy about Ranbir Alia's marriage, but the happiness of the son's marriage is the most to the mother. No one can imagine this happiness. In such a situation, when she reached the set of a TV reality show, everyone wished her a lot. During this, he also got a very unique gift.
Actually, a video has surfaced on social media, in which it can be seen that Neetu Kapoor has reached the stage of Hunarbaaz. During this, everyone congratulated him. At the same time, comedian Bharti Singh, who was on the set, gave him a very funny gift. It can be seen in the video that Bharti Singh first congratulates her, then tells that when she had a baby, Neetu Kapoor told her that Ranbir would not get married if she did not dance in the procession. On this Neetu Kapoor tells him that he missed her at the wedding. After this she tells that she has kept a gift for Neetu Kapoor.
Neetu ji ko mila Haarsh aur Bharti se ek anokha gift. Comments mein bataiye humein, aap kya dena chaahenge #RanLia ko as wedding gift?

Dekhiyega zaroor, #Hunarbaaz Desh Ki Shaan #GrandFinaleaaj raat 9 baje sirf #Colors par. Anytime on @justvoot pic.twitter.com/DKMZXqaCAR

— ColorsTV (@ColorsTV) April 16, 2022
At the same time, when she hands over the gift box to him, after opening it, the actress is surprised to see. There is actually a pressure cooker in this box, seeing this, Neetu Kapoor says that she will give it to her daughter-in-law Alia. They will find it very useful. To this Bharti Singh says, 'We saw the wedding pictures and Ranbir Kapoor is looking very thin. In this, Alia Bhatt will cook and feed them good food. After this all the people present there start laughing.
Married on 14th April
Let us tell you that on Thursday, April 14, Alia and Ranbir Kapoor tied the knot. During this, along with the Kapoor family and the Bhatt family, some close friends attended. Things were kept secret till the last minute regarding marriage and things were kept away from the media.
Also read- Alia Ranbir Wedding: Ranbir wore a special ring for Alia in her engagement, studded with diamonds worth crores
When Saif Ali Khan had revealed, not wife Kareena Kapoor but this actress thinks him the hottest