IPL 2022: Kohli's Priceless Reaction Goes Viral As Policeman Carries Away Intruder On Shoulder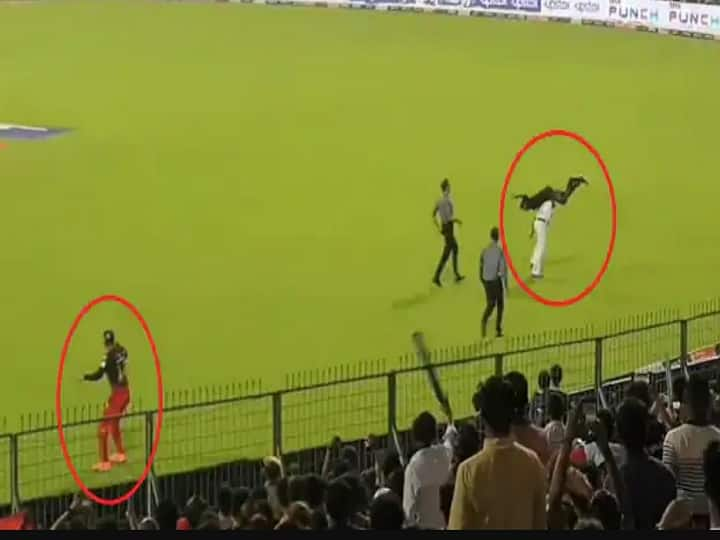 New Delhi: At the end of the Eliminator match of the Indian Premier League (IPL 2022), a man forcibly entered the field after breaking the security cordon and was about to run towards Virat Kohli when one of the security men lifted him on the shoulder and took him out of the field. The incident happened during the match being played between Royal Challengers Bangalore and Lucknow Super Giants. The last-minute match was going on and RCB's victory seemed almost certain when a man forcibly entered the field.
He was running towards Virat Kohli, who was fielding on the boundary line when about four people from security ran towards him. A man from the security hurriedly lifted the man who had entered the field on his shoulder and took him out of the field.
Ipl 2022: Watch Video
Intruder in yesterday's match.
Kohli 🤣 pic.twitter.com/1CiQXZTDdm

— Samy (@ZlxComfort) May 26, 2022
Seeing this whole scene, Virat Kohli could not control his laughter and started laughing loudly. The people present in the stadium made a video of it and shared it on social media, which is now becoming fiercely viral. After this, Virat Kohli also mimicked the security man, how he took the person who entered the field forcibly and took him out.
Also Read: BCCI President Sourav Ganguly Backs Virat Kohli & Rohit Sharma, Says 'Matter Of Time They'll Be At Their Best'
Royal Challengers Bangalore defeated Lucknow Super Giants in this match and confirmed their place in Qualifier-2. Batting first, Bengaluru scored 207, in response, Lucknow's team could only score 193 runs.
With the help of the bat, Virat could only contribute 25 runs after facing 24 balls. RCB beat Lucknow by 14 runs to seal their place in Qualifier 2 where they will take on Rajasthan Royals.
Be it batting or fielding of RCB, Virat Kohli was seen full of energy in his familiar style during the match against Lucknow.