Amidst the ruckus on the poster of Kaali, the director's tweet, 'If it costs my life then…'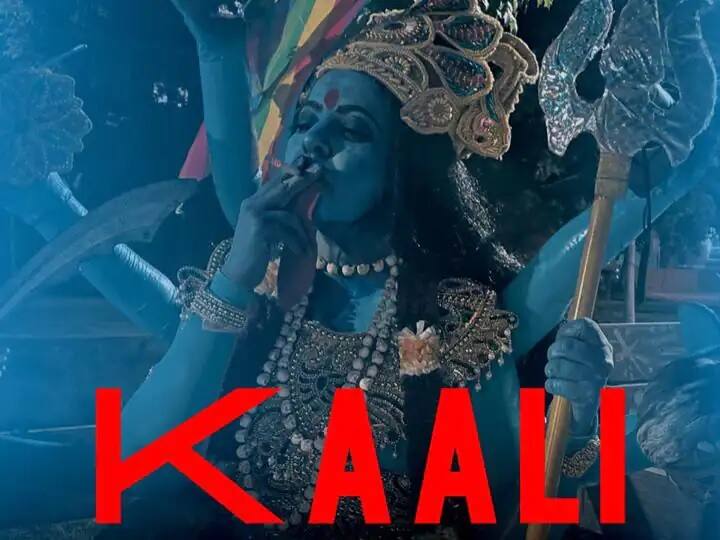 Kaali Poster Controversy : The poster of film director Leena Manimekalai's upcoming film 'Kaali' has created a ruckus. Leena recently released the poster of the film Kaali on her official Twitter account, in which mother Kali is seen smoking a cigarette and holding the flag of the LGBTQ community in her hand. Controversy has erupted over this poster of Kali and people are accusing her of hurting religious sentiments.
Amidst these allegations, Leena has made a tweet in which she has written that if my life is worth it then I am ready. In his tweet, the director wrote, 'I have nothing to lose, I want to be the voice that speaks without fear… as long as it is there. If it's worth my genes… I'll give it to you.
Earlier, Leena wrote in her tweet, 'The film revolves around the events of the evening when Kali appears and roams the streets of Toronto. If you see the photo, don't write the hashtag #arrestLeenamanimekalai, but write the hashtag #loveyouLeenamanimekalai.
Film makers furious over the poster
Bollywood's famous film maker Ashok Pandit has expressed his anger against the poster of 'Kali'. Ashok Pandit tweeted on his official Twitter handle and wrote, 'Is now the Supreme Court on whose behalf Nupur Sharma was convicted for the murder of Kanhaiya Lal, who was killed in the recent Udaipur violence. In such a situation, no reaction will be taken against a filmmaker? Whoever abused the Hindu goddess Kali Maa, will not be sent to jail now?
Will the Supreme Court which blamed #NupurSharma for the killing of #kanahiyalal now take up this case of a filmmaker who has abused #HinduGoddess (Maa Kaali) and put her behind bars.
Will the begums of #UrbanNaxal gang & #lutyensmedia condemn this. #ArrestLeenaManimekalai , pic.twitter.com/yo7r2otD8y

— Ashoke Pandit (@ashokepandit) July 4, 2022
Dharavi Bank: Dharavi area of ​​Mumbai will see a stir, Sunil Shetty-Vivek Oberoi will have a surprising character
Taapsee Pannu New Project: South's Queen Samantha joins hands with Taapsee Pannu, will work together in this project