Congress made serious allegations, Union Minister Smriti Irani also retaliated, know big things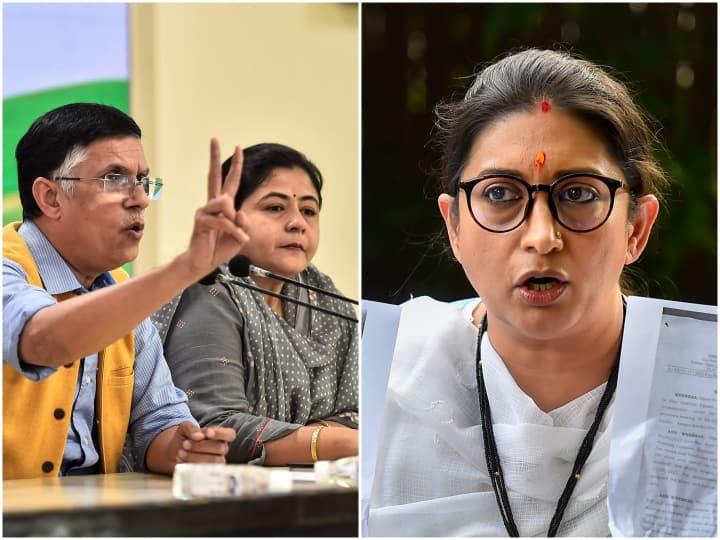 Smriti Irani Row: On Saturday, there was a fierce backlash between Congress and Union Minister Smriti Irani. The Congress has accused Union Minister Smriti Irani's daughter of running an illegal bar in Goa. Also said that the Prime Minister Narendra Modi (PM Modi) should sack Smriti Irani from his cabinet. Smriti Irani also retaliated fiercely on the Congress regarding these allegations. Know the big things of the case.
Congress media and publicity chief Pawan Khera said on Saturday, "The family of Union Minister Smriti Irani has been accused of serious corruption. Fake license to serve liquor at a restaurant run by her daughter in Goa." There is an allegation of getting released and this is not an allegation made by quoting sources or agencies to seek political vendetta, but disclosed in the information received under Right to Information (RTI)."
He claimed, "Union Minister Smriti Irani's daughter got the bar licenses issued for her 'Silly Souls Cafe and Bar' by giving forged documents." According to the Congress leader, 'Anthony De Gama', who applied for the renewal of the license on June 22, 2022, has died in May last year itself. Anthony's Aadhaar card showed that he was a resident of Vile Parle in Mumbai. His death certificate has also been received by the lawyer seeking information under RTI.
The Congress leader said, "We demand from the Prime Minister that Smriti Irani should be sacked from the cabinet with immediate effect." Pawan Khera also asked this question, "Smriti Irani should tell on whose behest this rigging is taking place? Who is behind the illegal activities? Which Smriti Irani till yesterday asked various questions about Rahul Gandhi and Sonia Gandhi. Why is she silent on her family corruption today?"
Smriti Irani rubbished the allegations of the Congress and said, "My daughter's fault is that her mother holds a press conference on Sonia and Rahul Gandhi's loot of Rs 5,000 crore. Her fault is that her mother did it in 2014 and 2019. Contested against Rahul Gandhi in the Lok Sabha elections."
Union Minister Smriti Irani said in a press conference that the Congress had attacked her daughter and targeted her. He challenged the opposition Congress to show proof of any wrongdoing by his daughter. Women and Child Development Minister Irani asked whether her daughter's name was in the purported notices shown at a press conference by Congress leaders Jairam Ramesh and Pawan Khera.
Irani said her 18-year-old daughter is a first year college student and does not run a bar. He alleged that the Congress held a press conference at the behest of the Gandhi family to target his daughter.
These allegations have also been denied by Smriti Irani's daughter. Kirat Nagra, the lawyer for the Union minister's daughter, said in a statement that her client neither owns nor operates the restaurant 'Silly Souls'. They have not even received any show cause notice from any authority. Terming the allegations as baseless, Nagra said, "It is unfortunate that they are spreading false propaganda only to sensationalise pointless matter without verifying the facts and they are trying to defame my client only because But I am determined that she is the daughter of a leader."
The Congress then issued a paper claiming that a show cause notice was issued to Smriti Irani's daughter by the Excise Department and the officer who gave the notice was allegedly being transferred. Congress General Secretary Jairam Ramesh said, "We will raise this issue in Parliament."
The Congress leader said, "The Prime Minister should immediately remove Smriti Irani. It is not just an allegation. All the papers are in front of it. All this has happened because an influential minister is behind it. In 2004, Smriti Irani sought the resignation of the then Chief Minister of Gujarat. Was. Today the Prime Minister should take his resignation.
He alleged that private security personnel have been deployed around the restaurant to prevent media access to the restaurant. He asked, "We want to know from you that under whose influence all this is being done? Who is behind this illegal act?" Khera later shared the news and tweeted, "Who is Smriti Irani lying? The one who said on April 14, 2022 that she was proud of her daughter's restaurant or the one who said today that His daughter has nothing to do with Silly Souls Bar & Cafe?"
read this also-
Exclusive: 'PM Modi made a mistake in economic decisions', Digvijay Singh said to abp news – PM thinks later
Maharashtra Politics: Devendra Fadnavis takes a jibe at Uddhav Thackeray- 'Maharashtra had an undeclared emergency, will make it number one again'