When the protesters entered the President's house, they got a huge amount! People were seen counting notes in the viral video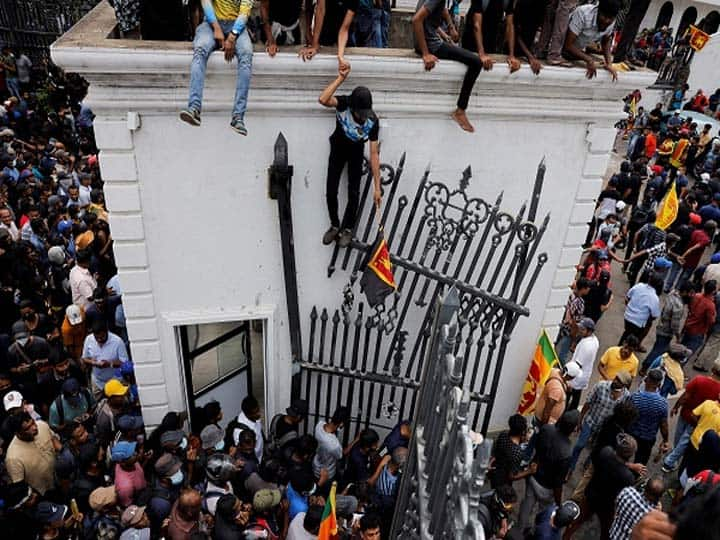 Sri Lanka Political Crisis: Anti-government protesters who stormed the official residence of President Gotabaya Rajapaksa in Sri Lanka claimed to have recovered Rs 1.78 crore from inside the President's house. In a video that has surfaced on social media, protesters are seen counting the recovered currency notes. The protesters said they received 1,78,50,000 Sri Lankan rupees at the President's official residence on Sunday. The protesters handed over the recovered amount to the police.
Hundreds of anti-government protesters broke into Rajapaksa's residence in a high-security area in central Colombo on Saturday after breaking barriers. The protesters were demanding the resignation of the President in view of the serious economic crisis in the country. Another group of protesters entered the private residence of Prime Minister Ranil Wickremesinghe and set it on fire.
It is not known where the President is now. His only communication since the protesters entered the city was with parliament speaker Mahinda Yapa Abhaywardene, who announced late Saturday that the president would resign on Wednesday. President Rajapaksa informed the Speaker of his decision to resign. Abhaywardene had written a letter to the leaders seeking their resignations after the all-party meeting on Saturday evening. In the absence of both the President and the Prime Minister, the Speaker of the Parliament will be the Acting President. Later, the MPs will elect the new President.
read this also- Sri Lanka Crisis: Sri Lankan army chief's appeal to the people to maintain peace, so far four cabinet ministers have resigned
Brother Mahindra Rajapakse had left the post
In May, President Gotabaya Rajapaksa's elder brother and then Prime Minister Mahinda Rajapaksa had to step down due to massive anti-government protests. The Rajapaksa brothers – Mahinda and Gotabaya – were seen by many in Sri Lanka as heroes for winning the civil war against the LTTE, but are now being blamed for the country's worst economic crisis. The country with a population of about 22 million is facing an unprecedented economic turmoil in the last seven decades. The crisis in the country has deepened due to depleting foreign exchange and shortage of essential goods including fuel.
read this also- Sri Lanka Crisis: Fire at PM's house, President Rajapaksa's resignation on July 13 – 10 big updates on the ruckus in Sri Lanka